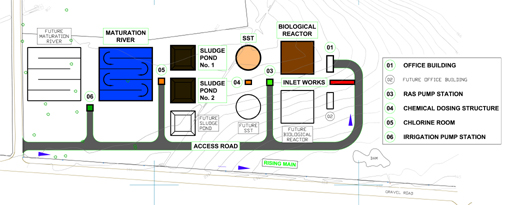 The Caddie Civil Application (CCA) provides you with all the tools you need to save time preparing your civil drawings and documentation.  From road design to services, the CCA makes plotting, drawing and annotating easy, with automated tools to speed up data entry, produce charts and sections, and utilities layouts (such as power lines, telecom and sewerage) helping improve accuracy and reducing transcription errors.

By using 'DWG' as its native drawing format along with support for 'DXF', Caddie is the market leader in providing integrated productivity tools allied to the seamless transfer of information with industry professionals worldwide.

 

The Caddie Civil Application Provides You With:

Clear and Accurate Drawings that are Easy to Read
To make sure that, as well as producing information more quickly, your drawings reflect your own high presentation standards, the CCA gives you individual control of linestyle and colour, helping you produce accurate drawings which are easy to read and interpret.

General Arrangement Tools to Make Plotting Service Lines and Fences Easy
The CCA provides you with a comprehensive array of tools to make creating and annotating your General Arrangement drawings easy, including single, double and pylon power lines, telephone poles, Kilometre posts, standard, security and game fences.  Indicating areas of cut and fill on your drawings is easy too, simply indicate the top and bottom bank positions and the direction for the marker and the CCA does the rest.

Road and Pipeline Long-Section Plotting
Producing long-sections through roads and pipelines manually can be a laborious and time consuming process, but using the CCA you can plot the sections you need in seconds, complete with differential scaling of axes, chainage, and annotation as appropriate to the section, all direct from their original survey data files.  Save time by creating road repair charts direct from data files and plotting coordinates straight into your drawings from external design software such as Surpack®.

Vehicle Turning Circles
Plot vehicle track and turning circles automatically with the CCA's preconfigured and custom alternatives for articulated and rigid axle vehicles, cars, lorries and buses that help you design and check your road and service yard layouts.

Municipal Tools including Drainage
Produce foul and storm water drainage layouts quickly and easily using the CCA's Municipal tools complete with manhole positions; check pipe clearances for drainage runs based on pipe diameter, invert and falls to avoid conflicts; and automatically locate 'Erf' numbers within your drawings to reduce the time you need to spend searching.

Concrete Beams
Draw concrete downstand, upstand and 'T' beams automatically and complete with hatching, all at the click of your mouse.

 

The Caddie Civil Application is included as standard with Caddie Professional

All trade marks acknowledged

User comments are their own and ACS are not responsible for these or matters arising.