Caddie UKUG May 2018
The Caddie UK User Group convened at Stonebridge Golf Course near Meriden last week for their Spring meeting.  Once again Advanced Computer Solutions Limited were in attendance to provide Caddie workshops to help users maximise the potential of their Caddie software.

Topics covered during the day
During the day we covered a wide range of topics, dealing with matters with potential impact upon users' day-to -day working, including;
Windows® updates
Windows updates and notifications for forthcoming downloads via the Microsoft® Update Catalog web pages, plus their likely impact on machine performance with particular refernce to graphics drivers.
Drylining made simple using AEC Walls and End Caps
Practical applications for AEC Walls for drylining situations with particular reference to End Caps and their use to return the drylining into the window and door reveals. The resulting walls can then be added to non-AEC drawings of existing survey simply by snapping from corner to corner on the wall to be drylined.

Timber Stud Walls with Double Stud End Cap
End Caps can also be used to provide the rrequired finishing to stud walls, and auto estimation of the amount of as componets, as shown below;

 
Automated AEC Wall creation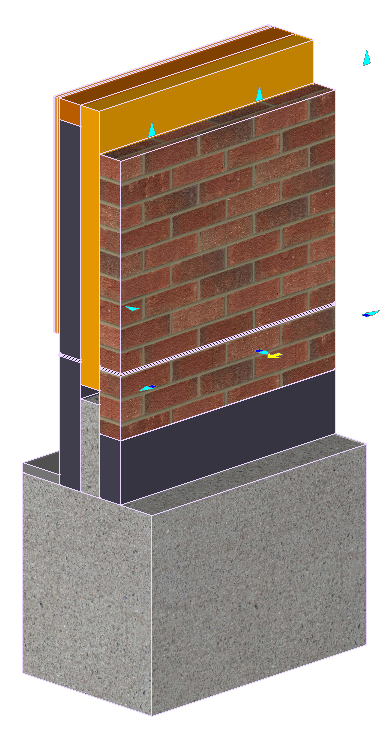 Creation of custom AEC Walls using the auto-Wall creation tools within Caddie. This tool makes it easy to create custom AEC Walls with a simple click to create operation. The auto-creation tool covers all aspect of the wall creation from Pen number to Hatch fill to the component priorities that govern crossing and abutments.
Multi-component AEC Walls including Foundations
Exploring some of Caddie's standard AEC Wall styles, in particular those with integrated foundations. Also covered under this section was how to modify AEC Wall styles to customise them to provide any changes required. Modification including, wallplates, changes to insulation thickness, and stepping of brickwork to accommodate the addition of pitched roof rafters.
Leveraging AEC with simple to use MText Scheduling on non-AEC drawings



AEC scheduling using MText

 
Simple AEC scheduling using MText with an illustration of how this everyday Object can be enhanced to provide data rich drawing that enable automated scheduling with auto-numbering, specification and condition notation, and asset tracking.
Scope Manipulation
 
Scope Manipulation

Scope (Displayed Objects) manipulationwith illustrations of how to control visible content at any given time during a drawing session using the Layering and Display functions. These include, Show/Hide Object(s) and Re-Show Hidden Object(s) from the right-click Context Sensitive Menu.
Velux Rooflights
Adding Velux Roof lights, here we explored a range of standard Caddie samples that users can deploy, and how the use of the Dynamic UCS along with Clipboard Cut & Paste provides for automatic alignment of the windows.
 
Model Space Viewports.
Whilst many users were aware of Model Space Viewports and their use in splitting the Caddie screen, the fact that Viewport layouts can be customised to provide multi-splits with individual render mode selection for each view was less well known. The ability to maximise any chosen view for general working, and options for using viewports as zoom window to describe the area required and Viewport to be deployed in was also well received.
Customised AEC content
 
Creation of customise
d Doors, Windows and Door Window Assemblies to provide user designed representations for their standard components such as tri-fold doors. 
 
 
 
Many other areas were covered although in lesser detail, with forays in the current hot topic of GDPR sparking lively debate over the lunch period.
 
Follow-up
Following the meeting, several users were in touch to further explore some of the subjects covered, including;
How to customise the 'look' of AEC objects to retain their own representations for the likes of 'pocket doors' and 'Velfac' windows whilst using the AEC tolls to speed-up drawing.
How to develop schedules to automatically report on the opening sizes within a scheme

  Try Caddie 23 for yourself with this FREE Download Evaluation
            Follow us on Facebook and Twitter for Top Insider Tips and Downloads